CompuAll's OmniVox Intelligent Call/Media Processor
Overview
CompuAll is a leading developer of OmniVox software. The OmniVox® Intelligent Call/Media Processor was launched in 1989 and is one of APEX's most popular platforms. It has evolved significantly over the past 12 years and today offers a wide array of features for the development, deployment and management of services such as IVR, VoIP, Messaging, wireless e-mail, prepaid calling, fax processing, conferencing, audiotex, voice-activated dialing, one-number/follow-me, etc. Its dial and bridge commands can also be used to create complex switching applications. OmniVox's embedded service creation environment provides an intuitive way to quickly create unlimited call flows and its open API allows it to integrate with third-party products such as CTI middleware and PBXs. Additionally, because it supports multiple signaling protocols and provides internationalization and localization features, OmniVox applications can be deployed on virtually any telephone line worldwide. OmniVox software is available for Windows NT, Windows 2000, UNIX or Linux operating systems.
Because OmniVox is designed to run on both TDM- and IP-based networks, it can offer circuit-based carriers a cost-effective migration path to packet-based services. Applications created in OmniVox's service creation environment can run on any OmniVox platform, on virtually any type of network—TDM, IP or bridged. This means that users migrating to IP from TDM networks can immediately deploy their existing OmniVox applications over IP without performing any modifications to the applications whatsoever. While many IP development platforms have yet to be deployed, OmniVox has a long history and proven track record. Additionally, it is highly flexible for VoIP and can function as a stand-alone media server, media gateway or softswitch application server, depending on the specific requirements of a particular deployment.
Click here for more information on VoIP-enabled OmniVox.
Application Development with OmniView
OmniView is the award-winning graphical service creation environment embedded in OmniVox. It allows for the complete scripting of call processing applications and includes facilities for voice recording and playback, information retrieval and conversion to voice response, information entry and reporting, call transfer and call control using touch tone (DTMF) signaling or automated speech recognition (ASR) technology.
OmniView simplifies the scripting telephony applications by breaking down the available processes during a call to a series of icons. In a fully object-oriented environment, a developer can link these icons together to create a graphical flow chart of the application. The OmniView graphical user interface (GUI) provides cut-and-paste, copy, highlight and many other easy editing commands for connecting the icons in a call flow. After establishing the basic call flow logic, the user can right-click on the icons to access the underlying command records for configuring each command. Filling in the information entry screens defines all possible options for the caller and all possible outcomes for the call. Recording and editing of messages via the Speech Editor completes the basic process.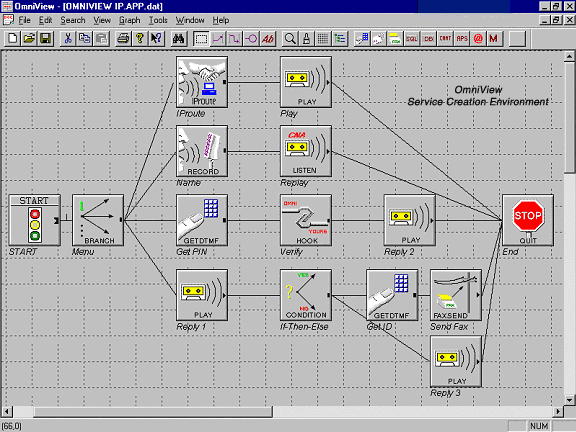 For additional customization, developers can directly integrate external routines into the call flow using a C/C++ language API or in BASIC for Windows-based versions.
With OmniVox for UNIX and OmniVox for Linux, applications are created through a series of command records, with each command record corresponding to a task or set of tasks. The OmniView graphical service creation environment is offered as an optional module.
Key Call/Media Processing and Management Features
In addition to service creation tools, OmniVox provides testing, deployment and management utilities including:
Line Management: This utility allows administrators to assign applications to lines, to start and stop specific lines in order to update or change applications while other lines continue processing calls and to check the functioning of selected lines for the debugging of applications.
Reporting: OmniVox allows administrators to generate detailed reports based on call counts (the total number of calls that came into each application for each hour of a given day), line counts (the total number of calls coming into a specific port on a given day) and user-defined counts (linked to specific commands, they tally the total number of times a particular option was selected by callers). OmniVox also maintains call detail records (CDRs) and a daily error log that administrators can review.
Resource Sharing: This utility enables the configuration of auxiliary technology hardware (fax, voice recognition, text-to-speech, etc.) available as shared resources. Developers configure groups of shared resource ports to be used by applications on an as-needed basis. Ports on multiple boards can be grouped together and the system will check the availability of a port within the entire group, reducing the total resources necessary and promoting improved cost efficiencies.
Remote Administration: Users can remotely control OmniVox's administrative functions and receive its traps using the SNMP module.
Support for SS7 (ANSI & ITU): The APEX SS7 Signaling Gateway (SS7-SG) provides a signaling interface between OmniVox and SS7 networks.
Support for Multiple Carriers, Different Signaling Formats & Multiple Protocols: With OmniVox, protocols can be set per channel, per T1/E1 or for the entire system. This means a single OmniVox system can support multiple digital lines from multiple carriers, even with different protocols. Protocols can be changed within the bit state table level, data format level (DNIS, ANI) and timing level.
Click to view Protocols supported by OmniVox
Click here for a list of Dialogic boards supported by OmniVox
OmniVox Modules
Standard OmniVox for Windows (NT and 2000) software includes modules for general IVR, Voice Mail, Speech Editor and CodeBase. IP, Debit Card Processing, SS7, Voice Recognition, Text-to-Speech, Fax, ODBC, SNMP, Macro and Virtual Chat are offered as optional modules.
Standard OmniVox for UNIX and OmniVox for Linux software includes modules for general IVR, Voice Mail, Speech Editor (forms-based) and CodeBase. Debit Card Processing, SS7 Voice Recognition, Text-to-Speech, Fax, Multi-Party Conferencing, SNMP, Virtual Chat, Dial Pulse Detection and the OmniView GUI (with GUI Speech Editor) are offered as optional modules.
*Standard configuration subject to change at any time without notice.
---